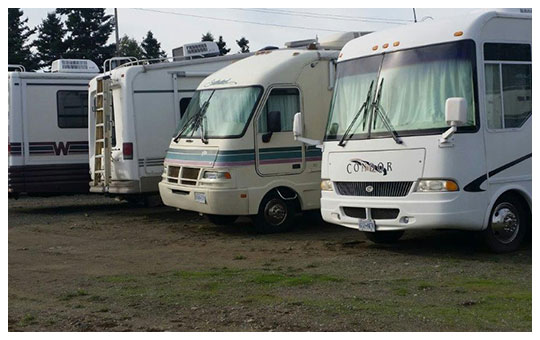 Safe Storage Solutions provides a clean and professionally managed facility geared specifically to the needs of the Recreational Vehicle Owner. We understand the challenges associated with the storage of your RV, Fifth Wheel or Toy Hauler and our Ferndale Facility is designed to provide a safe, secure and convenient solution to your RV Storage needs.
Features:
Our site is designed to provide easy access to your RV. Many of our spaces are pull through, eliminating the difficulties of backing your RV or Trailer into a tight space. You will find extra wide driveways, 30 degree angle parking, and large turning radiuses throughout the facility In addition there are wide turn outs and alleys for easy maneuvering in and out of our Covered and Basic storage spaces.
Safety & Security:
The site is in the process of being renovated to include high intensity light towers, and state of the art security cameras. This lighting combined with I-5 visibility, 8′ barbed wire fencing and security cameras will ensure that your vehicle is safe, secure and under constant surveillance. In addition, access to the facility is controlled by individual security codes and we have an onsite manager 24-7.
Unparalleled Convenience:
Our site is conveniently located on the I-5 just 10 miles south of the Canadian Border and just 8 miles north of Bellingham off of exit 266. No back roads to navigate or side roads to slow you down just exit, park it and go.